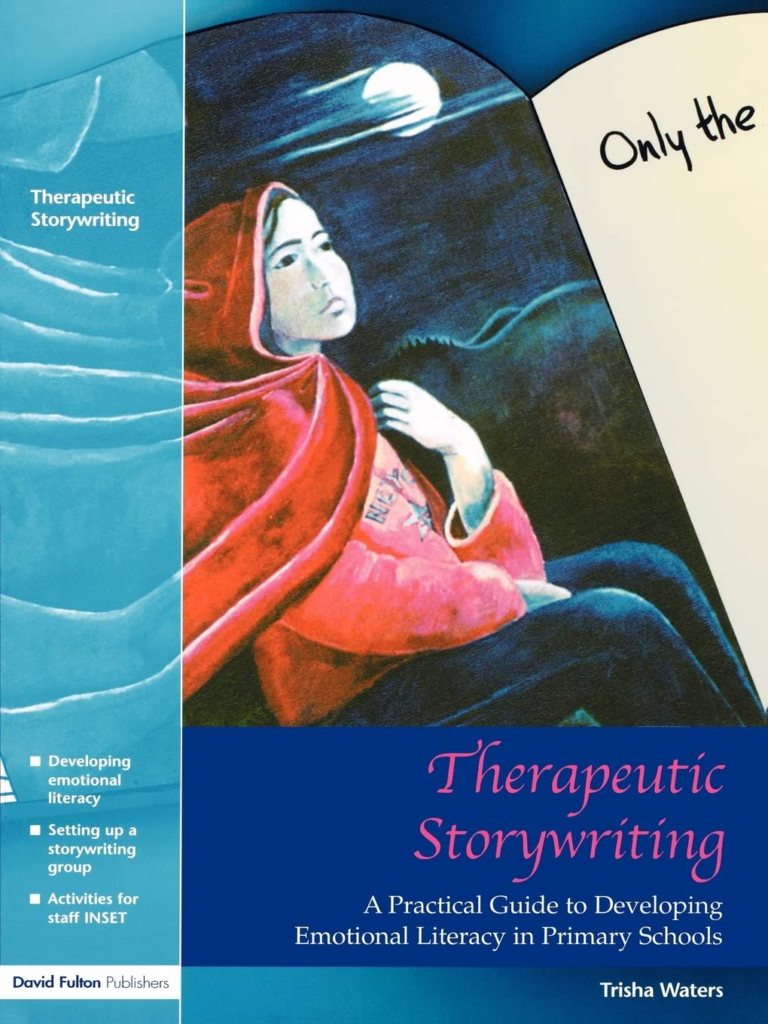 Therapeutic Storywriting
Waters, T
2004 David Fulton, London
A Practical Guide to Developing Emotional Literacy in Primary Schools. This text provides a clear theoretical rationale for therapeutic storywriting.

Attachment Behaviour and the Schoolchild
Barrett and Trevitt
1991 Routledge, London
This is one of the first books to look at attachment in the classroom and an excellent introduction to the topic. I find the diagrams particularly helpful when introducing attachment theory to professionals for the first time. (TW)

The Uses of Enchantment 
Bettelheim, B
1991 Penguin Books, London
This book was my bible when I first started working in a therapeutic community school for excluded boys (many years/decades ago now!).
After being freed from a Nazi concentration camp Bettelheim devoted himself to supporting traumatised children. An inspiration! (TW)

Inside I'm Hurting
Bomber, L
2007 Worth, London

A Secure Base 
Bowlby, J
1997 Routledge, London

The Impact of Parental Involvement: Parental Support and Family Education on Pupil Achievement and Adjustment: A Literature Review 
Desforges & Abouchaar
2003 DfES publications, Nottingham

Attachment in the Classroom 
Geddes, H
2005 Worth, London

Families at Risk Review, Reaching Out: Think Family 
Social Exclusion Task Force
2007 The Cabinet Office, London

Evaluation report: Writing Stories with Feeling 
Waters, T
2004a SERSEN, Kingston upon Thames

Story Links Programme Evaluation: The impact of a parent partnership intervention that uses therapeutic storywriting to support pupils at risk of exclusion 
Waters, T
2009 Centre for Therapeutic Storywriting

Playing and Reality 
Winnicott, D
1999 London: Routledge
And some others…
Uvnas-Moberg, K. (2003) The Oxytocin Factor: Tapping the Hormone of Calm, Love and Healing
Sue Gerhardt. (2004) Why Love Matters: how affection shapes a babies brain
Bowen, B. & Robinson G. (eds) (1999) Therapeutic Stories, AFT
Davou, B. & Xenakis, F. (eds) (1998) Feeling, Communicating
and Thinking, Papazissis
DfES (2004) Removing Barriers to Achievement: The Government's
strategy for SEN
DfES Publications
Dwivedi, K. (1997) The Therapeutic Use of Stories, Routledge
Gardner, H. (1993) Frames of Mind, Fontana Press
Lacher, D., Nichols, T. & May, J. (2005) Connecting with Kids
through Stories, Jessica Kingsley
Leming, E (2000) Working with Parents, SHA Publications
Salans, M. (2004) Storytelling with Children in Crisis, Jessica
Kingsley.
Waller and Waller (1998) Linking Home and School – Partnership
in Practice in Primary Education, David Fulton
Journals
British Journal of Support for Learning
Educational Therapy and Therapeutic Teaching